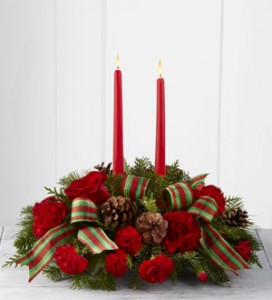 Christmas flowers represent joy, happiness, sharing and giving while symbolizing the hope in the hearts of each one that gives or receives them. Flowers and greenery brighten up our homes and give them a festive look. Christmas flowers will add an extra dimension to your holiday activities. Here are some ideas for Christmas flowers.
How to use them
Christmas flowers can be used in a variety of ways. They are a special and unique gift that can be given to the hosts of the parties you are invited to or can be sent as gifts for family members or friends who are not near at Christmas. Other ideas include wreaths, candle rings, centerpieces, bouquets, flower baskets and house plants. Whatever way you decide to use you can order them from your local florist or by clicking on your favorite online florist.
Choosing the colors
The main color themes for Christmas flowers are red, white and green. In recent years purple has also become a popular Christmas color. You can use these colors alone or in combination. A traditional arrangement for Christmas would include a bright combination of red and white flowers with greenery added.
Choosing the flowers
There are many ideas for Christmas flowers when you begin to choose which flowers you want to use. Any flower you enjoy can be used as a Christmas flower, but there are certain flowers that lend themselves more to the color themes that are generally used at Christmas. The most popular are roses, carnations, poinsettias, alstremerias, gerberas, tulips, lilies, iris, orchids, serenetas, lisianthus, amaryllis and chrysanthemums. They can be used as cut flowers in a bouquet wrapped in cellophane, a lovely arrangement in a special base or a potted plant such as a poinsettia, miniature Christmas tree, hyacinth, miniature rose, gerbera, lily or reindeer fern.
Choosing the base
The size of your vase will depend on the size and shape of your flower arrangement. You can use Christmas mugs, baskets, ceramic pots and red, green or white vases. Use your imagination and look around your home to find other interesting items you could use to put your flowers in when you are considering ideas for Christmas flowers. They can even be made into a ring and placed around a candle.
Adding the Final Touches
To make your flowers more interesting choose a variety of greens. Use pine, boxwood, noble fir, holly, rough juniper, fern leaves or cedar. Add ilex berries, sparkling thistle and silver twigs for fill in. You can do a glass hurricane with a red taper candle inside and surround it with holiday greenery, red flowers, red berries, pine cones and a silver bow. You can change the look by changing the color of the candle, flowers or bow. Snowmen, reindeer, different colored Christmas tree balls, pine cones, ribbons of different color and texture along with miniature snowflakes can be added to give the flowers a special touch. Another one of the perfect ideas for Christmas flowers could be a snow topped house cradled by an arrangement of magnificent flowers and a beautiful bow.
Article Source: http://EzineArticles.com/2897055